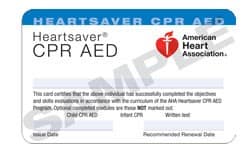 Course Description: The Heartsaver AED course consists of the Heartsaver CPR course and AED certification.  Heartsaver teaches CPR and relief of choking in adults and children, infant CPR and relief of choking, and the use of barrier devices for all ages.  This course also includes Automatic Electronic Defibrillation certification.
Course Designed for: For those interested in CPR who are non-healthcare providers. This course is designed to meet OSHA requirements.
Course Length: Approximately 2.5 hours
Course Notes: This course provides the student with a Heartsaver AED card valid for two years. Cards are provided to the student upon completion of the course.
Course Cost:   Initial and Renewal Courses: $69 per student.  Payment is required at the time of registration. Heartsaver CPR/AED and First Aid is available for $95.00 per student.