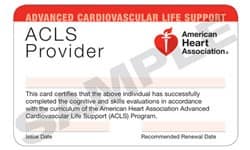 Course Description: ACLS is an advanced, Instructor-led classroom course that highlights the importance of team dynamics and communication, systems of care and immediate post–cardiac-arrest care. It also covers airway management and related pharmacology.
Course Designed for:  For healthcare providers such as EMS personnel, physician assistants, doctors, dentists, nurses, pharmacists and respiratory therapists who must have a credential (card) documenting successful completion of a ACLS course.
Course Notes: This course provides the student with a ACLS Certification card that is valid for two years. Cards are provided to the student upon completion of the course.
Course Cost:   Initial course fee is $185.00. Refresher course fee is $165.00.  Prices include all necessary course supplies. Textbook may be purchased if desired. Payment is required at the time of registration.  Replacement ACLS cards are $20.00.
Skills Sessions: Heartcode ACLS Skills sessions are also available.  These short in-person skills practice sessions are for students who have completed the online Heartcode ACLS class with the AHA.  The online course can be found online at https://elearning.heart.org  The cost of the skills session is $95.00.
ACLS Class Orientation Download
ACLS (Heartcode Part 2 and 3) Skills Session Only Orientation